Content as an Asset

| | |
| --- | --- |
| | 928 |
Submitted by Teo Graca | RSS Feed | Add Comment | Bookmark Me! | IBC

Each piece of content you generate is an asset that creates real value for your business as a prospect generator. To bring home this point, imagine that you create just one short article per month and promote it through social media. If you connect each to your sales funnel process and each begins to generate prospects through your opt-in form, you will see more and more subscribers each month.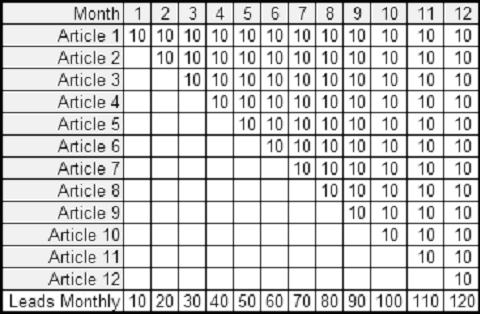 In the following example, we add one article per month and capture 10 leads per month per article. The key to this concept is that each article remains in place attracting leads each month, and as you add more content, the effect is cumulative.

You can also attach cost per article versus cost per lead in cases where you hire a writer and pay to post and promote each article. In this scenario, you would have a fixed cost per month, but the number of leads would increase each month and decrease your cost.

Let's take a look at the following adjusted matrix where I added a fixed cost of $900 per month to hire a writer, pay to post and promote each article and see how this works with the same 10 leads generated per month.

You can see how quickly the cost per lead decreases with content (article) marketing. The content also acts as a lead generator as long as it is available and can be factored in as a company asset while it builds value for your business.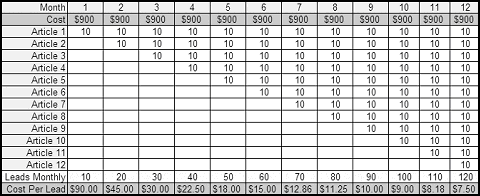 For shorter articles of 500-800 words, you can get them written for you for as low as a few hundred dollars each and arrange discounts for long-term contracts for monthly and weekly article marketing campaigns. After a year, your business has a significant set of assets that can help you get loans or capital for expansion and growth.

From Teo's book:

Social Media Marketing and Syndication
The Evolution of Advertising

Copyright 2009 GLI Publishing
All rights reserved

Edition 1.1 eBook

ISBN: 978-1-61623-440-9

Click for Details --> Teo's Book <--
Associated Articles:
Investment Grade Value Stocks - Quality Is Job One - How much financial bloodshed is necessary before we realize that there is no safe and easy shortcut ...
What Your Mother Never Told You About Income Investing: Twenty Questions (1 thru - Investors are a very dependent group of people, particularly now that most employed persons have bee...
Asset Allocation Based Performance Analysis - One - It matters not what lines, numbers, indices, or gurus you worship, you just can't know where the sto...
Purpose Based Asset Allocation: The Working Capital Model - Asset Allocation is an Investment Planning Tool, not an Investment Strategy. WCM facilitates long te...
Risk Minimization, The Essence of Market Cycle Investment Management - The MCIM methodology combines risk minimization, asset allocation, equity trading, investment grade ...
What Investors Want & How To Get It: - What Investors Want and How To Get It... the between the lines content of The Brainwashing of the Am...
How To Minimize Risk: A Formula For More Productive Investing - Risk minimization requires the identification of what's inside a portfolio. Risk control requires de...
Interest Rates Are Rising - The Sky Is NOT Falling - Income investing facts of life: When higher rates are expected, existing security prices fall. lower...
Investment Fruitcake - Portfolio design, in its simplest form, is a fruitcake of apples, oranges, and dough. The recipe (as...
Ten Time-Tested Investment Portfolio Risk Minimizers - Most investment mistakes are caused by basic misunderstandings of the securities markets and by inva...