Career Opportunity In Sales - Earn a Great Income Selling Viral Marketing Alliance (VMA) Services

| | |
| --- | --- |
| | 111 |
Submitted by Teo Graca | RSS Feed | Add Comment | Bookmark Me!

If you have any knowledge about how powerful advertising on the Internet is today and how much is spent each year (Billions!), you may have considered a career in sales. Net-Teams has partnered with the Viral Marketing Alliance (VMA) to manage our new ad sales program, which you can turn into a lucrative career.
We are all about stats, so here are a few to consider from the Internet Advertising Bureau (IAB) on how much is being spent on Internet Advertising: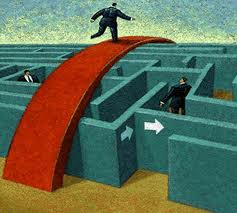 $6.01 billion (2002)
$7.27 billion (2003)
$9.63 billion (2004)
$12.54 billion (2005)
$16.88 billion (2006)
$21.21 billion (2007)
$23.6 billion (2008)
$25.7 billion (2009)
$28.5 billion (2010 estimated)
With a solid growth rate over the last decade, the IAB goes on to project a spending growth in the specific area of Behaviorally Targeted Online Advertising of 58.5% in 2011 and 63.0% in 2012 - this is what we do. If you want to be part of the fastest growing industry on the web, this is it!
The most used online advertising program on the web today is Pay Per Click (PPC). It is definitely not the most effective, but just as traditional advertising like television, radio and newspaper advertising has been displaced by PPC, behavioral advertising is replacing PPC. Our program has significant advantages over PPC, making sales easier for our sales people.
Advantages Include:
More Effective Advertising (better for the advertiser)
Personalized Service (higher customer satisfaction)
Short Training Cycle (start selling within a week)
Own Your Own Advertising Business (we provide a complete program - easy to learn and master)
Higher Commission (we pay 30% to 50% in ad sales)
We Are Not a Faceless Company (you have direct access to the VMA leaders, always)
Advancement Opportunities (you can quickly earn your own business with higher commissions - we fully fund this for you as your sales increase)
Selling PPC Versus Selling VMA Services:
With PPC programs offered on sites like FaceBook and Google AdWords, advertisers are not "buying" advertising, they are "bidding" on advertising.
It takes a high level of expertise to manage PPC campaigns - you can spend thousands of dollars in training and many months trying to learn this, with no guarantee of success.
Most companies hire someone to manage PPC advertising campaigns, which immediately doubles or triples the cost for the advertiser.
VMA Services are easy to understand and the sales process is easy to learn - a couple hours with a mentor and you are off and running.
Where Can I Find Great Leads For VMA Services?
If you know people using PPC and determine that they are not happy with it, they are great leads for VMA services.
If you know people that have websites, but aren't getting traffic, they are great leads for VMA services.
If you know people that don't have a website, but need one, they are great leads for VMA services.
The sales people we are seeking are active in their communities, meeting people and even selling other products, preferably non-tech and non-marketing products - most sales people selling in-person in non-tech/marketing environments are already in a great market for our products. The above lead qualification is an easy conversation to have, and until you master the close, you can set up conference calls with another VMA sales mentor that will convert your leads to your customers and you get all the credit and commissions!
NOTE: This is not an MLM and there is no cost for those selected as VMA sales personnel, just income, free training, the freedom of setting your own schedule and the pride of building your own business! Here is the commission structure our sales people enjoy!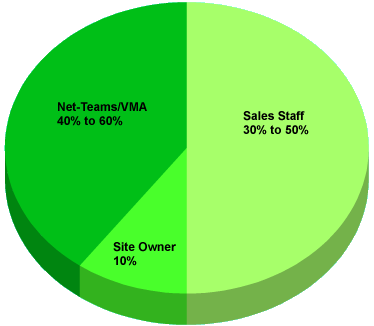 Owning Your Own Business:

Once you sell your first $6,000 in advertising, which you can do in your first month, we will help you set up your own business, AND we will help you with your branding strategy, building your own sales materials, AND we will create a VMA website just for your business. As a full VMA member with your own VMA website, you will get an additional 10% in sales that come through your site. You can also earn additional income from training new sales people by being a mentor and having them register sales through your website!

Should You Start Your Own Business?


To see if you are ready to start your own business, just take just 10 minutes to fill out our Entrepreneur Assessment. There is no email, name or phone number required to use this assessment and learn something about your potential. If your score is better than 60, we will want to talk to you about selling for us, and you will have the opportunity (your option) to forward your score to us and initiate a free consultation with myself or one of the other VMA mentors. This is your opportunity to create a job for yourself and set up your own business at no cost to you!

Click for Details --> Entrepreneur Assessment <--